last updated 23 January 2005
Angione Reunion
New York New York May 18, 2002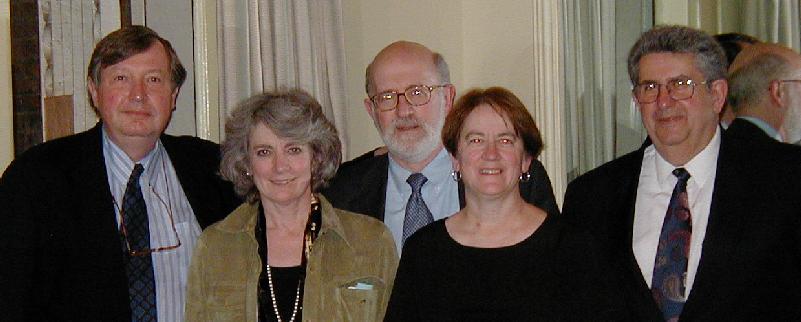 Chief perpetrators, left to right:
Rey Olsen (son of Betty), Pauline, Howard and Christine Angione (children of Charles) and
Joe Rossano (son of Minnie)
Quick Family Overview
With apologies to missing spouses, last names, birth, death dates, etc. If you send me info I will add and pass on to Howard who is working on a family tree.
Bold means line of descent from Francesco (Frank) and Maria C.
Italic means attending in NYC May 18, 2002.
Parents

Siblings

1st Cousins

Second Cousins

Carlo(Charles) F. Angione
1904-1969
Howard F. Angione
Charles F. Angione
m. Genevieve R. McCarthy
1906-1970
m. Maryann Allgier
m. Dawn Downing
Mary Angione
2bm2 Clemens 2009?
Kathleen Angione
m. Bill 2007
Christine Angione
Pauline Angione
m. Bill Zoellick
R
Jude Angione
Francesco (Frank) Angione
m. Maria C. D'Urso
Philomena (Minnie) Angione (d)
Joe Rossano
Vicky Rossano
m. Joseph Rossano
m. Mary Ann ??
Regina Rossano
Joe Rossano
Kathleen Rossano
Marie Rossano (d)
Theresa Rossano (d)
Elizabeth (Betty) Angione (d)
m. Arthur Olsen
Reynold (Rey) Olsen
m. Ingrid Stephani
Alex Olsen
A quick list of pictures. If you click on the blue line it will show you the picture.
Click back on your browser to come back to the list.
Pictures!
lr 23 Jan 2005