D'Anjou/D'Angio/Angione Riunione
Day: Saturday
Date: May 18th
Time: 6:00 p. m. Aperitif/Aperitivo in garden (weather permitting)
7:00 Dinner in private room
Place: Columbus Club
8 East 69th Street (Between 5th and Madison Avenues), Manhattan
Directions
By car: East 69th Street is eastbound. Go north on Madison Avenue and make a left turn on East 69th Street to Number 8, which is on the left (South Side). The Club's parking lot is on the right (North Side). There may also be street parking.
By subway: "N" or "R" train to 5th Avenue (60th Street) and then walk north.
"6" Train to 67th Street (Lexington Avenue) and then walk east.
"F" Train to Lexington (63rd Street) and then walk east.
By bus: 5th Avenue or Madison Avenue bus to stop nearest 69th Street
Map
x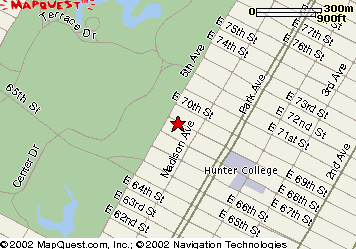 About the Columbus Club
The Columbus Club is in an Italianate mansion and was founded by our son Alexander's classmate's grandfather, Surrogate Judge Samuel DiFalco. Membership is limited to those of Italian ancestry who have had notable accomplishments in their fields. I am not a member but for various reasons I am extended the courtesy of using their facilities.
The club benefits Italian causes, most notably the annual Columbus Day Parade. It is renowned for its food and service.
The club is formal and has a dress code.
A jacket and tie is required for men and a dress for ladies.
I look forward to being with all of you.
Rey