Chris's Page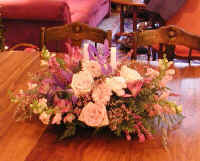 ---
Last updated 8 Dec 2003
Thanksgiving 2003
From right, counterclockwise:
Bill, Chris, Howard, top of Clemens head, Mary.
From left to right: Kathleen, Rachel, Pauline, Bill, Chris, Cathy.
From Left counterclockwise: Kathleen, Chris, Howard, Clemens, Mary, Cathy, Maryann
Some Pictures from Dick's Birthday
Some New Pictures from the Digital Camera
Some Christmas/Thanksgiving 2000 Pictures from the "OgniGiones, AngiBene"Clan
A Weekend at the Ognibene Maloney's, Years Ago
With Kathleen's new Camera: Evan, Steve, Lucas and Evan,. Ally and Lucas.
Lucas, Ally and Mystery Child. The Folks smile.
Vintage Chris
Frost Avenue Trio
The Who's Who is from some pictures taken in the garden on Frost Avenue, and Chris and I were trying to sort out which was Chris and which was Pauline.