Mt. Stephen House (& a Few Local Cats)
Click on the thumbnail to see the full picture.
Click BACK on your browser to return to this page.
I seem to have lost the old page that showed these pictures, so I am going to make a stab at descriptions. If I have the titles wrong, let me know. Sorry about the sizes--that is the next lesson!
Guest Room

Begora

Guest Room Bed

Peach Tree
Gazebo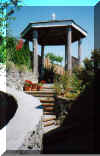 Faith in Heaven